The present report is based on my field trip of one and a half months (January-February 2019) to Nepal where I analyzed benefactive constructions in Chintang (Kiranti, Dhankuta District) as part of my Master thesis.
Chintang is spoken in and around three small villages scattered in a hilly zone of eastern Nepal. Most of its inhabitants are farmers who produce millet, rice, maize, chili, ginger and oranges. Livestock is also widespread but on a small scale. Most of the speakers of Chintang are trilingual in Bantawua (a related Kiranti language also spoken in the area) and Nepali (Indo-Aryan, national language and sole medium of education). Even though Chintang is still used by most adults on a everyday basis, children do not learn the language from their parents and are largely monolingual in Nepali. This situation, however, might not be different in more remote areas which I did not visit.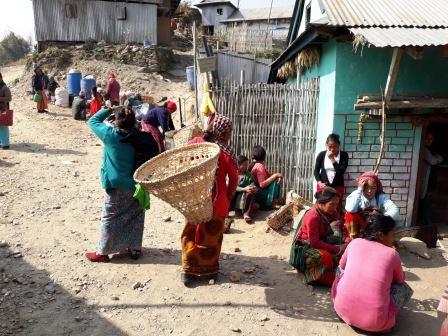 A steep landscape (left) | The weekly market at pãca kanne (right)
The language has been thoroughly studied for at least ten years. The project has published several papers, a printed dictionary and built a large corpus. I was able to use all these resources for my own research. One former member of the project (Dr. Robert Schikowski) was even kind enough to teach me the language for two months before my trip.
For my Master thesis I focus on benefactive V2 or benefactive compound verb, i.e. elements that are attached to the main verb and add a new participant who benefits (or is negatively affected) by the operation. One of the difficulties of studying this construction lies in three of these benefactives a) being very similar in function to each other and b) being used very rarely. Besides traditional elicitation I conducted a small test to study what spontaneous association each V2 triggers. This test should measure the difference between each V2. Furthermore, a corpus analysis should support the results.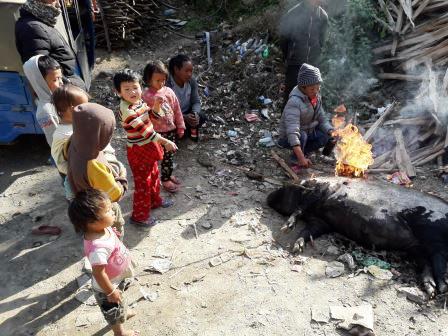 Rice fields (left)
All in all my stay in Chintang was very positive. I wish to thank the Swiss Association of Endangered Languages for supporting my small research and the people from Chintang who were very friendly with me.